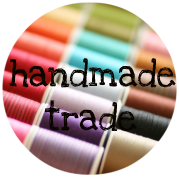 I participated in the
For The Love of Blogs
Handmade Trade recently. Those of us who wished to participate where paired up with another person to trade a handmade item with. I was paired up with Renae from
Olivers Inspired Mama
. I think I got the better deal for sure.
Renae made me a gorgeous light pink and green bracelet. I LOVE bracelets and those are 2 of my favorite colors. Poor Renae got a set of my bright colored coasters, not nearly as cool as my bracelet.
I just loved the packaging and the note. It was such a nice touch.
Thanks Renae for the gorgeous bracelet!!!!